---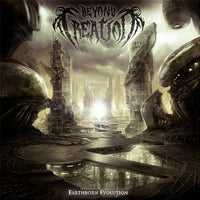 Black 12" double vinyl, cut at 45 rpm for optimum fidelity, in gatefold sleeve.
Fourth pressing 350 copies worldwide.
Feel the onrush of sweeping arpeggios, crushing waves of fretless bass, complex rhythmical patterns and erupting scales peppered with jazzy feeling and masterful execution under the mark of 'Earthborn Evolution', which names the sophomore full-length of BEYOND CREATION.
The French part of Canada is home to a vibrant culture of technical Death Metal fostered by outstanding acts such as GORGUTS, CRYPTOPSY, MARTYR, and NEURAXIS. This illustrious family tree has produced many sprouts in the past, yet none of them are as brilliant as Quebec's new amazing scion: BEYOND CREATION!
'Earthborn Evolution' now catapults the Canadians into the top league of their genre, right among such giants as ATHEIST, DEATH or CYNIC.
Prepare for the lightning evolution of the progressive technical death metal revolution!