---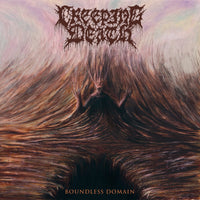 CREEPING DEATH is on a quick and furious ascent from the underground. The Texas death metal crew repeatedly delivers a relentless bludgeoning summoned from the furthest reaches of the genre's past, present, and future. A triumphant celebration of the style itself, the Lone Star State fivesome whips up gruesome riffage and Southern grooves with an improbable cathartic glee.

The band's formula hits perfection with the brilliant Boundless Domain, a sophomore slab of spectacular weight, dimension, and might. Produced by Killswitch Engage guitarist Adam Dutkiewicz (As I Lay Dying, The Acacia Strain, Underoath), Boundless Domain is a certified ripper, top to bottom.

Boundless Domain boasts future death metal classics like the super heavy, fast, and groovy "Intestinal Wrap" (which features George "Corpsegrinder" Fisher of Cannibal Corpse). "Vitrified Earth" showcases Creeping Death's increasing skills at songcraft, most evident with the cadence and phrasing of Alavi's vocals while never neglecting the sick riffs. Toward the album's end, there's even a bit of a spaced-out atmosphere, with guitar effects, harmonies, and heady time signatures.