---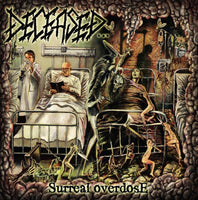 COKE BOTTLE GREEN/BONE VINYL


Originally self-released on CD in 2011, with successive CD pressings by other labels and a vinyl version by HELLS HEADBANGERS that year, DECEASED's
Surreal Overdose
is something of a "dark horse" in the band's vast and varied catalog. While no doubt DECEASED will always be "Death Metal From the Grave," they've likewise always skirted the edges of traditional metal, speed metal, and of course thrash metal, always putting their own unique spin on each and making it sound 666% DECEASED. The same can be said for Surreal Overdose, which follows six years on from the full-length
As The Weird Travel On
. Compared to its predecessor's more juiced-up iteration of deathrashing metal,
Surreal Overdose
indeed overdoses on the THRASH and marks the band's most energetic release since their dizzying 1995 classic
The Blueprints For Madness
. Naturally, the epic storytelling of drumming frontman King Fowley puts the album in a realm - both metal AND horror - that's simply unmatched. Discover this often-overlooked gem again, or for the first time, back on vinyl - where it belongs!