---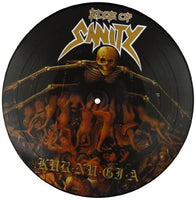 PICTURE DISC REISSUE OF EDGE OF SANITYS FIRST PROPER DEMO ORIGINALLY RELEASED IN 1990
Edge of Sanity's first proper demo KUR-NU-GI-A was recorded and released in 1990. It sold well beyond any expectations and gave the band a good reputation in the growing Metal underground. After the release of the demo the band signed to Black Mark and within a year the band had their debut album 'Nothing But Death remains' released.
Singer/Producer Dan Swano had this to say about the release:
"I always felt we grew up a bit too fast, We got caught up in the growing Death Metal scene and tuned down the guitars and bought the 'right' distortion pedals and tried to be the new Entombed. This demo showcases the original sound of Edge of Sanity. During this period we still listened to a lot of progressive and challenging metal of all kinds and I still believe the songs have their true version on this demo. I transferred the original 4 track cassette masters, using state of the art digital technology, and remixed them and finally gave them the sound I dreamt of giving them 21 years ago. The dream of finally having this classic recording released on 12" picture disc has come true. While digging in the vaults, I found a lot more interesting stuff, so expect more 'post mortem' release from Edge of Sanity".