---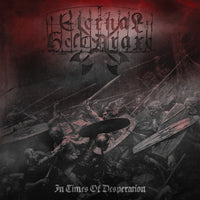 Eternal Helcaraxe return with their long awaited second full length album "In Times Of Desperation". 
Comprising of 8 blistering tracks of black metal that have been described as the bands strongest and most aggressive work to date.
Combining the harsh sounds of earlier works with the emotive and mighty atmosphere of more recent years.
This release will be sure to please long term fans and those who enjoy such bands as Immortal, Forefather and Bathory.

Format: Classic Jewelcase