---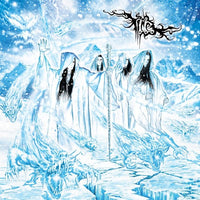 Pressed on white/sea blue galaxy effect heavy vinyl. Comes with a 4-page insert and a download card.

Emerging from their Arctic hibernation since 2004's infamous "Apocalyptic End in White" album, the inimitable IMPERIAL CRYSTALLINE ENTOMBMENT returns to unleash "Ancient Glacial Resurgence", a long-awaited second full-length onslaught of ravaging Black Metal mania.
A subzero blast of addictive and fucking unhinged savagery, "Ancient Glacial Resurgence" uses a maxed-out barrage of blistering riffage, biting first wave songcraft, harsh second wave coldness and the drive of thrashy full-throttle Death Metal to channel the ancient astral Anti-God Råvaskieth.
In the words of I.C.E.:
"20 Years have now passed and the repetitive howling shrieks of the "Astral Frost Invocation" from the loyal mortal servants below, have opened the archaic portal and reanimated I.C.E. once more to reign over Earth and begin the second wave of convulsing frigid annihilation. Behold! The 2023 release of the "Ancient Glacial Resurgence"!
Awakening within caverns of ice and snow, I.C.E. have returned from the abyss, across the frozen emptiness of space! All shall perish! Your children shall continue to be abducted and skinned under the piercing blizzard winds of the Arctic Aurora, until the vast army of ghastly "Lycanthropic Banshee Hordes" arrive!"