---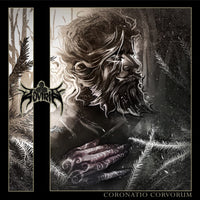 VOID 001
Koviria is a folk/black metal duo from North Carolina formed in 2022 by Elanti (drums/vocals/bass) and Galadtir (guitars/synthesizers). Inspired by topics such as nature, folklore, and history, their sound can primarily be categorized as a combination of folk metal, atmospheric black metal, and thrash metal. With a foundation of cold-ferocious riffs, accented by majestic melodies, Koviria creates a dark yet cathartic atmosphere.

Black 180g vinyl w/ insert and poly bag, limited to 200. [THIS VERSION]
Gold pro cassette limited to 100.
FOR FANS OF: early Satyricon, Windir, Primordial, Moonsorrow, Falkenbach, Kampfar, Gallowbraid