---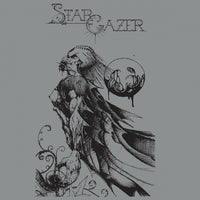 First pressing of 500 copies all on black vinyl with 3mm silver foil jacket and double sided 12" insert.
(Description by J. Campbell)
For 25 years, StarGazer have produced some of the most potent, if unconventional, black/death metal the world has seen. Guitarist The Serpent Inquisitor (Cauldron Black Ram, Martire, Portal, Road Warrior, Intellect Devourer, etc.) formed StarGazer following the dissolution of his prior band, Intellect Devourer. Since then, he and bassist and vocalist The Great Righteous Destroyer (Mournful Congregation, Cauldron Black Ram, Misery's Omen, Martire, etc.) have remained the only consistent members of the band, which has featured a handful of different drummers and a brief period with a second guitarist. With each successive release, StarGazer have bent the rules, gradually deforming genre conventions in ways that few, if any, bands have proven capable of doing. This release showcases the band in its primordial form, the zero point from which StarGazer has since been expanding. On StarGazer's earliest recordings—the "Gloat" demo, released in 1996, and the "Borne" EP from 1997—one can already hear the band laying the foundation for the sonic peregrinations that characterize its later work. Despite featuring the most primitive production in the StarGazer catalog—it was performed live and captured on a Tascam 4-track cassette recorder—the "Gloat" demo exhibits a staggering degree of complexity. And although the demo is undeniably more straightforward than the band's subsequent work, it is hardly orthodox. Similar to what The Serpent Inquisitor had been doing in Intellect Devourer just prior to forming StarGazer, "Gloat" is a feeding frenzy of precision death metal with unpredictable time signatures and wild riffing. Feral guitars wind and unwind around chaotic explosions of percussion in what are some of the band's most relentless and caustic tracks. It was with the "Borne" EP, however, that StarGazer began in earnest to sculpt their sound into something truly unique. The elliptical riffing, effortless transitions between divergent tempos, and generally seamless composition for which StarGazer is recognized are prevalent on this EP. "Borne" was recorded during several graveyard shift sessions at SAE studio where TGRD was studying sound engineering at the time. Even at this early phase in the band's history, TGRD and TSI were already honing their astute senses of time and instrumental diction, and the marked advance in the production value of the "Borne" material fostered greater compositional depth. "Borne" is also unique in that it is the only release in the StarGazer catalog featuring two guitarists, allowing for greater melodic entanglement than the band was able to achieve on the demo. Even if StarGazer never recorded anything else, these two releases would no doubt be highly regarded today, but given the band's distinguished trajectory, these seminal recordings offer insight into the band's genesis. Indeed, the ideas presented here permeate the StarGazer discography, finding complete expression in their contemporary work. Both "Gloat" and "Borne" have long proven elusive for ardent StarGazer fans, and NWN! is honored to present again these missing pieces of the StarGazer catalog, compiled along with several previously unreleased tracks from the same era.
Side Antiquated (Tracks 1-6): "Gloat" Demo 1996
Side Becoming (Tracks 7-12): "Borne" 7″ EP 1997